Rosie Amber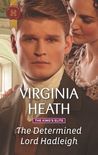 The Determined Lord Hadleigh by Virginia Heath
4 stars
The Determined Lord Hadleigh is book four of the King's Elite series of historical romances.
Although this can be read as a stand-alone, to get the most from the series I would suggest reading them in order.
The story is set in 1820 and opens with a trial at the Old Bailey. Viscount Penhurst was found guilty of being a key part in a large smuggling ring.
Although this was a satisfying result, Lord Hadleigh, the crown prosecutor, was left feeling guilty over the final sentence, because it left Penhurst's wife and son without a home and penniless.
I enjoyed the mix of themes within this story, particularly the backgrounds of both Penny and Hadleigh. Added to this were the strong secondary characters: Jessamine, the Dowager Baroness Penmor and Harriet. Their banter and delightful attitude lifted Penny when she was unsure…
View original post 110 more words